2022 Street & Utility Improvements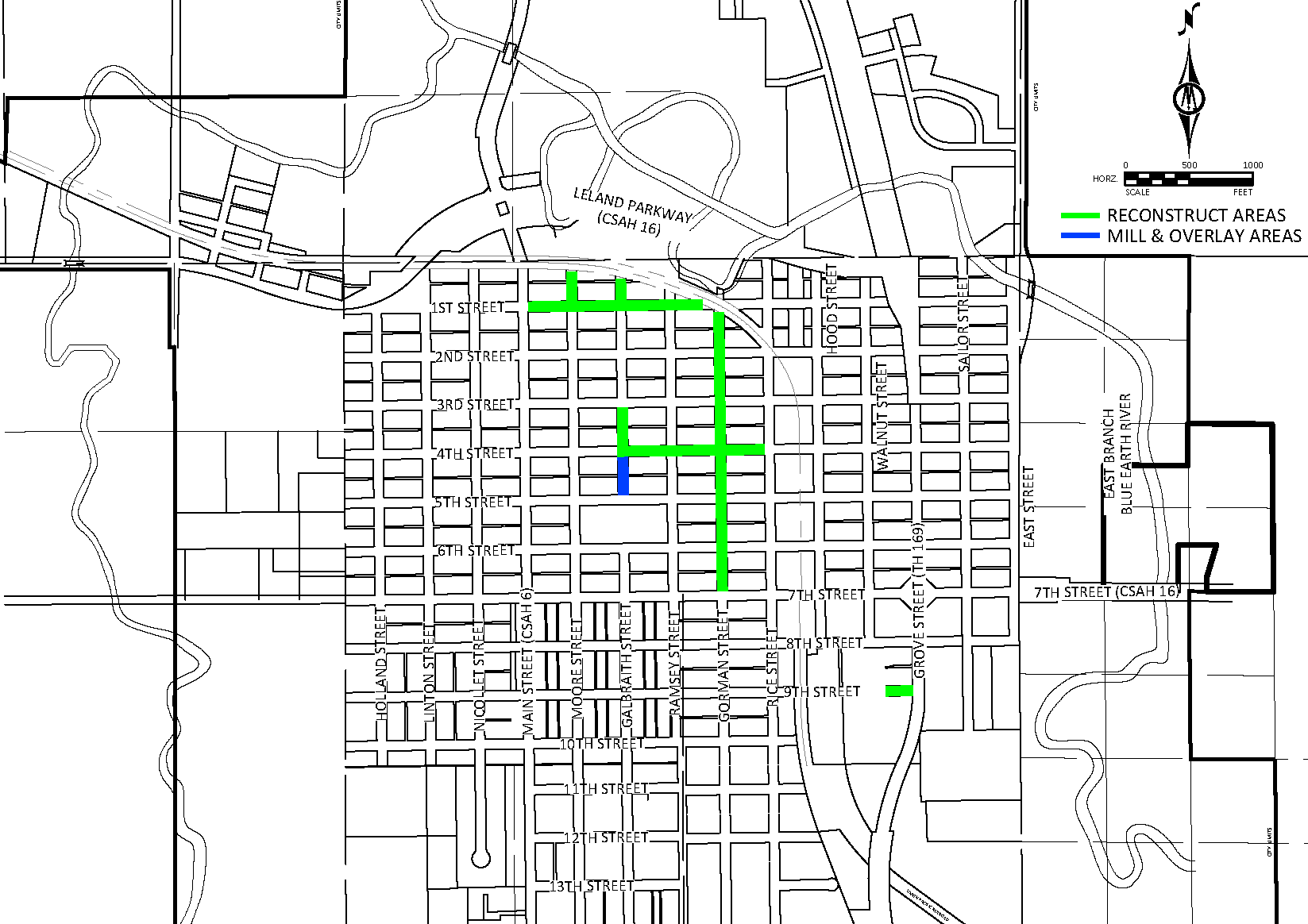 Project Objectives
Improve street surface conditions
Reduce sewer inflow, infiltration, and obstructions
Increase water system flow capacity
Replace deteriorating infrastructure
Improve reliability and decrease maintenance
Improve surface drainage conditions
Proposed Improvements – Reconstruction
Street reconstruction: subsurface drains
Driveway aprons, curb & gutter
Sanitary sewer mains, pipes, and manholes
Storm sewer mains, pipes, and manholes
Replace watermain, hydrants, valves, and fittings
Water and sewer lines to property lines
Concrete sidewalk
Proposed Improvements – Mill & Overlay
Curb repairs where needed
Milling off some of the existing pavement where curb exists
Paving a 2-inch bituminous mat over the entire roadway surface
Project Updates
September 30, 2022
Sod Installation
Holtmeier's grading crew is currently working on boulevard preparation for sod along the streets that have been paved. Sod placement in these areas are tentatively scheduled for early next week. Once the sod is in place, we ask for your help to ensure successful establishment.
Please avoid walking or driving on your new sod for the first three weeks and follow the care instructions that are provided. The contractor will be responsible for watering the sod as needed for the first 30 days after installation. Even during this period, if you notice the sod is drying out, please water it accordingly. You will be responsible for watering and maintenance of your sod after the 30-day maintenance period expires. After the 30 days are up, we will go around and review the condition of sod. If you notice problems with the placement and/or condition of your new sod, please contact Wade Bartz immediately. The City has mailed out letters to the residents explaining how to accommodate your utility bills while you are watering your new sod. If you have any questions about this please contact City Hall.
New Tree Installation
Information will be provided by mail regarding tree replacements.
Concrete Installation
The concrete crew continued to pour sidewalk and driveways along 4th Street and Gorman Street this week. As of now, the concrete crew is scheduled to be in town next week as well.
July 26 Newsletter
Construction has been moving along nicely. Currently, the 1st Street Area and Gorman Street from 7th Street to 5th Street has been restored to gravel and is ready for concrete work. It is anticipated concrete work will begin on Monday, August 1st along Gorman Street from 7th Street to 5th Street. Below outlines a typical sequence for concrete construction when work is performed on your block.
The concrete crew will come and install string line along each side of the street. This stringline will be parallel with the street and extend from one end to the other. At this time, there will be no more access to driveways until all concrete work is complete and has had time to cure.
The crew will then use this stringline to install the curb. While curb is being installed, please park your vehicles on a side street safely out of the way.
After curb and gutter has been installed, sidewalk will be poured where planned. Please continue to have your vehicle off the street during working hours until this work has been completed.
Lastly driveways will be poured between the sidewalk and curb. At this time, you may park on the street in front of your house. We ask that you park far enough away from your driveway to allow work to be done safely.
There will be some intersections that will be concrete. This work could happen any time after concrete curb is installed. This could also affect access to residents.
Please note, concrete needs time to cure and strengthen. Concrete placed will need at least 7 days to cure before driving on it. We will notify you when you can drive on the concrete.
Once concrete work is finished along Gorman Street, the crew will move to the 1st Street Area. Please note this could changed depending on the concrete crews schedule. We will provide updates on when and where concrete work will be performed.
Galbraith Street from 4th Street to 3rd Street is almost finished with underground construction. All that remains is water services and these will be installed this week. Once complete, the grading crew will begin restoring this block to gravel by the same process outlined in the previous newsletter.
Removals along Gorman Street from 2nd Street to 4th Street are complete. Sanitary sewer, storm sewer, and watermain will be installed along these blocks beginning this week. Construction along 4th Street is planned to begin the end of this week. Holtmeier indicated they should be ready for pavement removals along 4th Street on Thursday and Friday this week. Underground construction for these blocks will then begin on Monday, August 1st.
As always, we appreciate your patience during construction, and we will do our best to keep you up to date with the construction progress and changes. Should any questions or concerns arise during the construction process, please contact Wade Bartz or Ben Rosol with Bolton & Menk at the phone numbers listed.
Contractor
Holtmeier Construction, Inc.
Click below to sign up for project updates!