2022 Street & Utility Improvements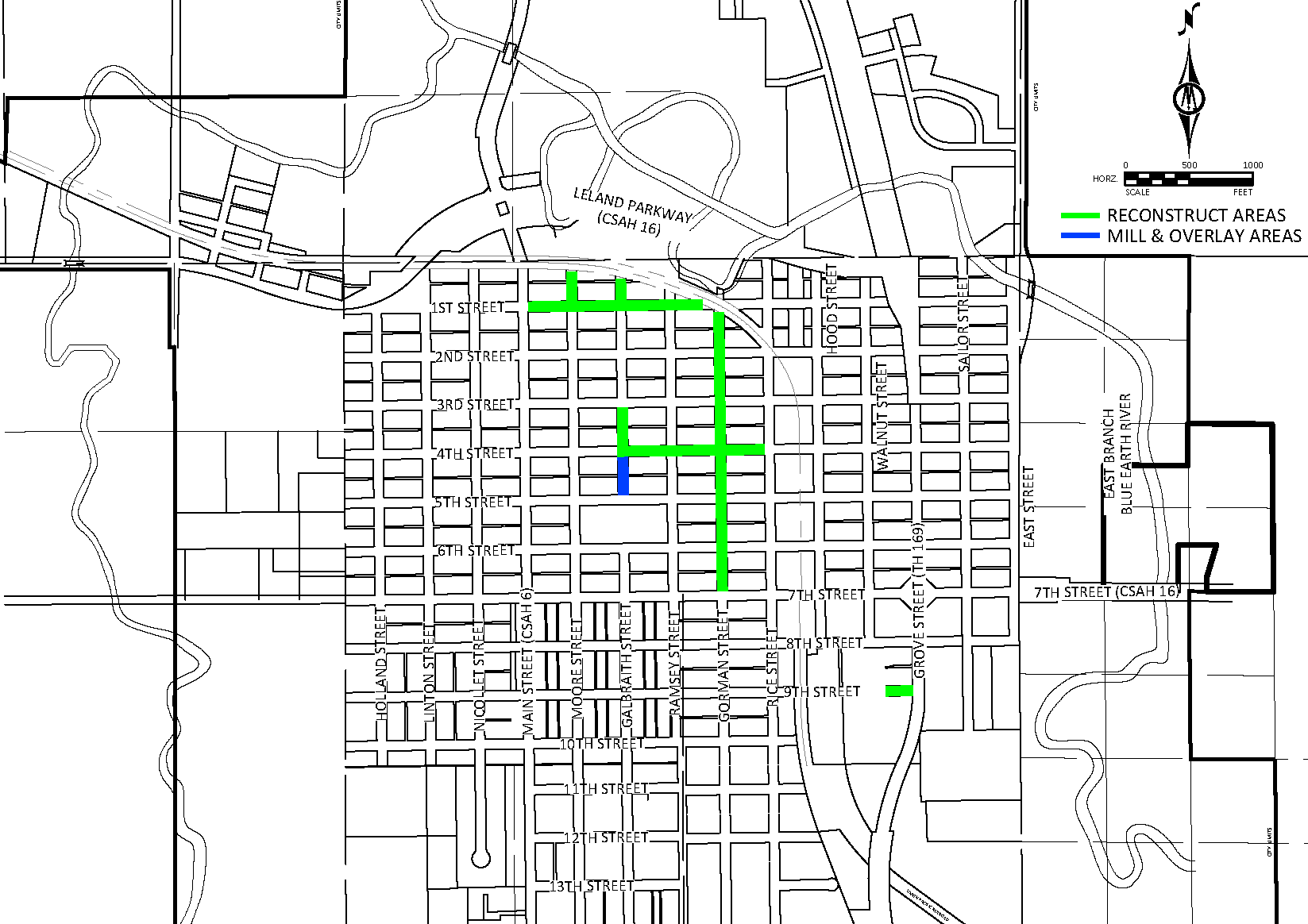 Project Objectives
Improve street surface conditions
Reduce sewer inflow, infiltration, and obstructions
Increase water system flow capacity
Replace deteriorating infrastructure
Improve reliability and decrease maintenance
Improve surface drainage conditions
Proposed Improvements – Reconstruction
Street reconstruction: subsurface drains
Driveway aprons, curb & gutter
Sanitary sewer mains, pipes, and manholes
Storm sewer mains, pipes, and manholes
Replace watermain, hydrants, valves, and fittings
Water and sewer lines to property lines
Concrete sidewalk
Proposed Improvements – Mill & Overlay
Curb repairs where needed
Milling off some of the existing pavement where curb exists
Paving a 2-inch bituminous mat over the entire roadway surface
Project Updates
November 23, 2022
As you are aware, winter arrived earlier than expected this year, so the contractor was unable to finish placing sod on the project. While it appears that the weather is warming up and the snow may melt next week, it is unlikely that the conditions will be dry enough to cut and place sod before another snowfall or hard freeze. To help stabilize the exposed soil through the winter and spring until sod can be placed next year, the contractor will be spraying a blue-green colored hydro-mulch on all exposed areas. In the spring, crews will be back to finish placing sod, planting trees and finishing any other outstanding items as soon as conditions allow.
We are aware of a few concerns with the existing sod that was placed. Due to the dry conditions, cold snap and minimal watering that occurred, there are a few areas that appear distressed. Next spring we will monitor the conditions of the sod prior to final acceptance. Any sod that does not appear satisfactory will be replaced at the discretion of the contractor and engineer.
Please note that there are wooden stakes in your yard marking your sanitary and water services. These stakes are important so that the crew can find these in the spring and avoid hitting them during the final prep work and sod placement. These will be removed when they are no longer needed.
We appreciate your patience throughout the duration of the project! Please let us know if you have any questions or concerns.
July 26 Newsletter
Construction has been moving along nicely. Currently, the 1st Street Area and Gorman Street from 7th Street to 5th Street has been restored to gravel and is ready for concrete work. It is anticipated concrete work will begin on Monday, August 1st along Gorman Street from 7th Street to 5th Street. Below outlines a typical sequence for concrete construction when work is performed on your block.
The concrete crew will come and install string line along each side of the street. This stringline will be parallel with the street and extend from one end to the other. At this time, there will be no more access to driveways until all concrete work is complete and has had time to cure.
The crew will then use this stringline to install the curb. While curb is being installed, please park your vehicles on a side street safely out of the way.
After curb and gutter has been installed, sidewalk will be poured where planned. Please continue to have your vehicle off the street during working hours until this work has been completed.
Lastly driveways will be poured between the sidewalk and curb. At this time, you may park on the street in front of your house. We ask that you park far enough away from your driveway to allow work to be done safely.
There will be some intersections that will be concrete. This work could happen any time after concrete curb is installed. This could also affect access to residents.
Please note, concrete needs time to cure and strengthen. Concrete placed will need at least 7 days to cure before driving on it. We will notify you when you can drive on the concrete.
Once concrete work is finished along Gorman Street, the crew will move to the 1st Street Area. Please note this could changed depending on the concrete crews schedule. We will provide updates on when and where concrete work will be performed.
Galbraith Street from 4th Street to 3rd Street is almost finished with underground construction. All that remains is water services and these will be installed this week. Once complete, the grading crew will begin restoring this block to gravel by the same process outlined in the previous newsletter.
Removals along Gorman Street from 2nd Street to 4th Street are complete. Sanitary sewer, storm sewer, and watermain will be installed along these blocks beginning this week. Construction along 4th Street is planned to begin the end of this week. Holtmeier indicated they should be ready for pavement removals along 4th Street on Thursday and Friday this week. Underground construction for these blocks will then begin on Monday, August 1st.
As always, we appreciate your patience during construction, and we will do our best to keep you up to date with the construction progress and changes. Should any questions or concerns arise during the construction process, please contact Wade Bartz or Ben Rosol with Bolton & Menk at the phone numbers listed.
Contractor
Holtmeier Construction, Inc.
Click below to sign up for project updates!