PROJECT OVERVIEW
The need for upgrades to the northeast portion of town has been authorized by the City Council. The condition of the roadways is worsening, and they are at the age where an upgrade is needed to prolong the life of the roadways. The proposed 2023 Benton Creek Area Improvement project includes Benton Creek Avenue, Meadow Street, Gold Nugget Drive, Parkside Street, Parkside Circle, and Pond View Court. The scope of work generally includes the following:
Reclamation and paving of streets, including subgrade corrections where necessary.
Spot replacement of damaged or settled curb and gutter sections.
Replacement of select storm sewer infrastructure, including the addition of sump structures.
Addition of storm sewer draintile and select sump pump connections.
Replacement of storm sewer and sanitary sewer castings.
Addition of sanitary sewer chimney seals.
Other miscellaneous improvements.
Other improvements in or near the project area have also been authorized to be completed with this project. These items include the following:
Upgrade / pave the Marion Fields Park parking lot.
Installation of sewer and water services for a future restroom facility in Marion Fields Park.
Installation of sewer and water services to a vacant lot located at 1307 Benton Creek Avenue.
Permitting and easement determination for the Benton Lake outlet channel. This preliminary work may result in additional construction work (sediment removal, erosion control, and/or bank restoration).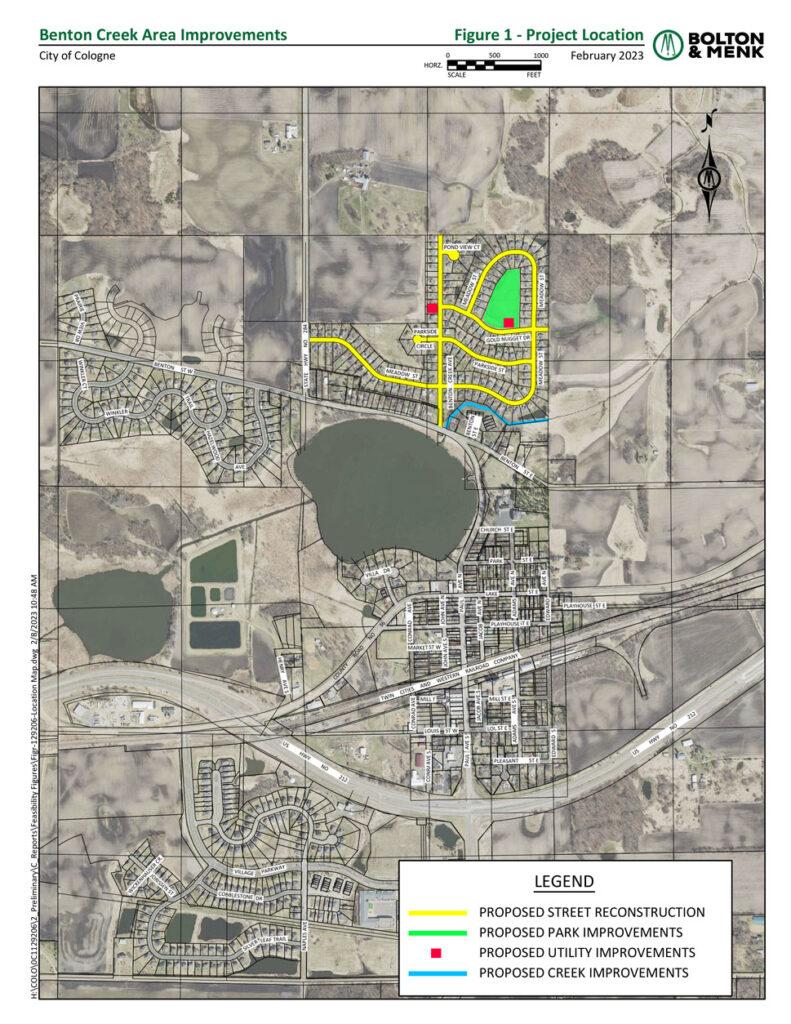 Project Schedule
March 2023 Public Hearing Conducted
April 2023 Final Design Authorized
May 2023 Authorization to Advertise for Bids
May/June 2023 Advertise Project
June 2023 Open Bids
July 2023 Award Project
Aug.-Oct. 2023 Construct Project
Fall 2023 Conduct Assessment Hearing
Spring 2024 Complete Necessary Repairs & Closeout Project