What is the 2021 Street & Utility Project?
Over the past 18 months, the City of Hayfield has been evaluating infrastructure systems throughout the City. In the fall of 2020, this evaluation was completed and the City is currently considering a street and utility improvement project in 2021 as part of an on-going effort to improve and maintain infrastructure.
As currently proposed, the 2021 Street & Utility Improvement project will affect the following areas, listed in the table and illustrated in the map below.
Improvement
Street
From / To
Street & Utility Reconstruction
1st Street NE
Center Ave N to 1st Ave NE
1st Avenue NE
1st St NE to 2nd St NE
2nd Avenue NE
Main St E to 2nd St NE
Alley (Block 10)
Center Ave N to 1st Ave NE
Street Overlay & Surface Patching
5th Street NE
4th Ave NE to 6th Ave NE
4th Street NE
4th Ave NE to 6th Ave NE
3rd Street NE
5th Ave NE to 6th Ave NE
4th Avenue NE
5th St NE to ½ block north
5th Avenue NE
3rd St NE to ½ block south
---
Project Location
In general, areas proposed for reconstruction will receive replaced bituminous surfacing, aggregate base and curb and gutter. Existing sidewalks in most areas will be removed and replaced and some new sidewalk extensions are under consideration. Underground improvements will include the complete removal and replacement of sanitary sewer mains, watermains, and associated service lines. Within the alley, improvements will include the addition of two storm sewer inlets in the adjacent parking areas, regrading and repaving.
Areas proposed for overlay and patching will include milling the existing surface pavement and overlaying the surface with of new wearing surface only. In areas where existing pavements exhibit excessive deterioration, work may include the full replacement of the existing pavement section (patching).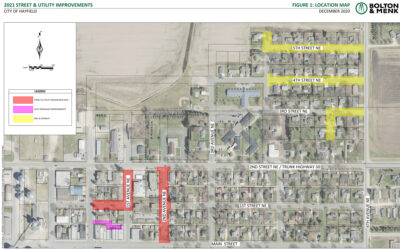 ---
Costs
Project costs are currently estimated at approximately $1.6 million. A portion of the project costs within "reconstructed" areas will be assessed to adjacent and/or benefitting property owners in general accordance with Minnesota Statutes Chapter 429.  Costs related to street overlays and patching will not be assessed.
Please use the links at the top of this page to access additional information about the project.
---
What to Expect During Construction