Pauly Park
(Future Park Atop the Bluff)
UPCOMING PRAC (PARKS & RECREATION ADVISORY COMMISSION) MEETING:
WHEN: Wednesday, January 17th at 6:30pm
WHERE: City of Jordan's City Council Chambers located at 116 1st Street East
WHY: PRAC will be discussing potential park amenities and the conceptual park layout.  Residents are encouraged to attend to discuss the future park with the Commission.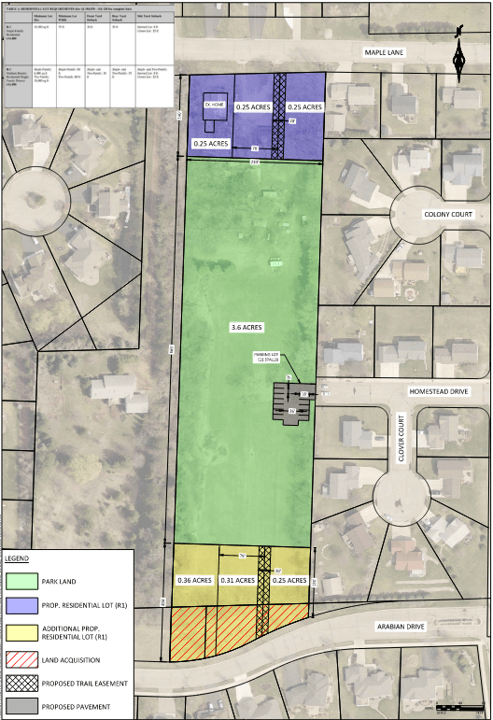 Background
The City of Jordan recently purchased land atop the bluff situated between the Bluffs at Cedar Ridge and Heritage Hills in the fall of 2022 (location map on the back of this newsletter). The city is proposing to construct a 3.6-acre public park on a portion of the land to serve the surrounding community. The park is currently in the early development stages.
Conceptual layouts were reviewed and discussed by City Council in the fall of 2022 to determine the potential uses of the land and contemplate park improvement funding. Currently, the city does not currently have any funding dedicated/available to developing the park land and furnishing with amenities. To help generate necessary funding, the City Council identified an opportunity to potentially develop a portion of the purchased property into single-family residential lots. The sale of a portion of the property could generate funds to be used for amenities within the park land. A preliminary layout for the park includes potential development of single-family homes on the north and south ends of the property with approximately 3.6 acres of remaining City Park land on the property. Details of the residential development, such as a developer or home types/styles have not been identified at this early stage. The City's PRAC (Parks and Recreation Advisory Commission) are currently reviewing potential park amenities and conceptual site plans for use of the space.
---
Documents
---
Contacts
Luke Wheeler, of Bolton & Menk is the Assistant City Engineer and will be primary contact representing the City and its residents and business owners for the development of this park.  If you have any questions regarding the project you may contact him at (612) 597-9105 or Luke.Wheeler@bolton-menk.com.
TJ Hofer, of Bolton & Menk is a Jordan City Planner. He can be reached at (952) 492-7940 or TJ.Hofer@bolton-menk.com.