2023 Tonkawa Forcemain
Overview
The City of Orono is undertaking a construction project to improve the city sanitary forcemain along CSAH 135 (Tonkawa Road) and the sanitary forcemain along Partenwood Road. The project will consist of pipe bursting the existing sanitary forcemain.
The forcemain servicing this area is a ductile iron pipe that was installed in the 1970s. The forcemain along Tonkawa has been replaced in phases over the years; this is the final phase. The forcemain along Partenwood Rd was installed in the same year and needs to be upgraded.
Project Update
September 15, 2023
This week the new forcemain along Tonkawa Road has gone live and clean up along Tonkawa is starting to occur. Once the southbound lane is clean and safe to drive, the traffic signals will be taken down and two way traffic will be restored. Paving and restoration along Tonkawa will be scheduled for early October.
The temporary conveyance has been staged along Partenwood Road and will be live next week. Once the temporary conveyance is live, bursting pits will started to be dug out. Pits will be dug at each joint in the existing main or 300 feet apart, whichever is smaller and will be limited to 2 open pits at a time. Residents will always have at least one lane of traffic to get around the pits. Contractors and visitors are encouraged to park away from the construction pits to help with traffic flow. As the road is a dead end, residents will want to give themselves a few extra minutes to get out.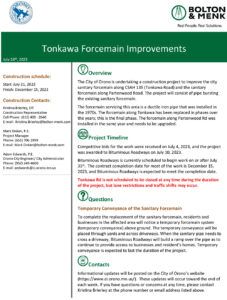 Project Timeline
Competitive bids for the work were received on July 4, 2023, and the project was awarded to Bituminous Roadways on July 10, 2023.
Bituminous Roadways is currently scheduled to begin work on or after July 31st.  The contract completion date for most of the work is December 15, 2023, and Bituminous Roadways is expected to meet the completion date.
Tonkawa Rd is not scheduled to be closed at any time during the duration of the project, but lane restrictions and traffic shifts may occur.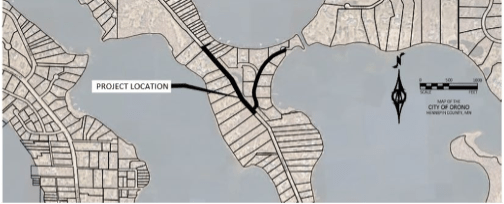 Construction Schedule
Start: July 31, 2023
Finish: December 15, 2023
Contact Us!
Kristina Brierley
Construction Representative
612-400-2640
Kristina.Brierley@bolton-menk.com
Mark Onken, P.E.
Project Manager
651-706-1999
Mark.Onken@bolton-menk.com
Adam Edwards
Orono City Engineer/City Administrator
952-249-4600
aedwards@ci.orono.mn.us
Informational updates will be posted on the City of Orono's website. These updates will occur toward the end of each week. If you have questions or concerns at any time, please contact Kristina Brierley at the phone number or email address listed.