CSAH 19 WATER MAIN REPLACEMENT
Overview
The City of Orono is undertaking a construction project to improve the city water main along CSAH 19 between North Shore Drive and Mapleridge Lane. The project will consist of pipe bursting the existing water main and directionally drilling a new water main.
The water main servicing this area is a cast iron pipe that was installed in the 1970s. The area has experienced some water main breaks in recent years indicating the pipe is at the end of its service life.
Project Update
October 6, 2022
This week, the contractor was able to get residents and businesses between CSAH 15 (Shoreline Drive) and Shadywood Circle along CSAH 19 (Shadywood Rd) on the new watermain. They also completed setting up the temporary water system. The rest of this week the contractor plans to complete the mainline installation of the watermain between Lydiard Ave and Old Beach Rd.
Next week, the contractor plans to install the watermain between Old Beach Rd and Mapleridge Ln. On Wednesday, the contractor will be installing the watermain crossings at Lydiard Ave, Kelly Ave, and Old Beach Rd.  These crossings will result in a water shutdown for all residents Lydiard Ave south and Old Beach Rd south. Residents should have received notice on their door Wednesday, October 5. The water will be restored to homes as soon as it is safe to do such. The plan for the rest of the week is to install the remaining water hydrants between Lydiard Ave and Mapleridge Ln.
The timeline for this work is approximate and may change based on weather and contractor availability. Please refer to the weekly updates on this page for the most up to date information. Weekly updates will occur towards the end of each week. For specific questions or concerns, please contact Kristina Brierley.
Project Timeline
Competitive bids for the work were received on August 3, 2022, and the project was awarded to Geislinger & Sons from Watkins, Minnesota on August 8, 2022.
Geislinger & Sons is currently scheduled to begin work on or after September 6, once they finish up some other projects they are working on. The contract completion date for most of the work is November 25, 2022, and Geislinger & Sons is expected to meet the completion date.
CSAH 19 will not be closed at any time during the duration of the project, but lane restrictions and traffic shifts may occur.
Contacts
Informational updates will be posted on the City of Orono's website. These updates will occur toward the end of each week. If you have questions or concerns at any time, please contact Kristina Brierley at the phone number or email address listed.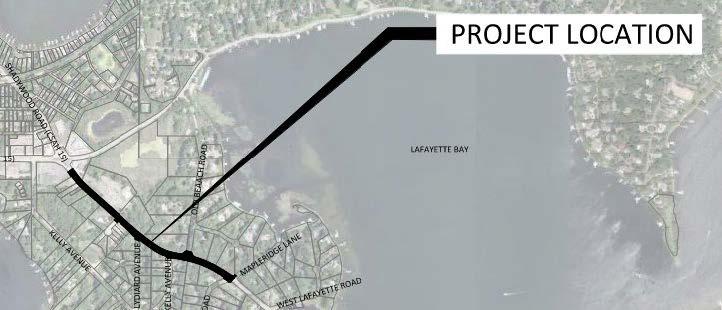 Construction Schedule
Start: September 6, 2022
End: November 25, 2022