Project Update
At its December 2, 2019 meeting, the City Council made the decision to proceed with the project with no changes to the scope or layout.  The project will include reconstruction of the side streets and alleys and will not include any intersection closures along Broadway Avenue.  The project will now proceed to bidding with construction expected to begin in the spring of 2020 and be completed in the fall of 2021.
For review, the proposed project layout can be viewed here: Updated Project Layout 3-10-20.
At the City Council's request, a Special Benefit Report was completed to aid the City in determining the special assessments for the project.  The report can be downloaded here: Special Benefit Report. Based on the Special Benefit Report, updated special assessments have been determined, notices have been sent out to affected property owners, and an assessment hearing has been scheduled for February 3rd at 7pm in the City Council Chambers.
With the resumption of the project, the easement acquisition process that had been on hold will now resume.  The easement acquisition team will be reaching out to you to reinitiate this process.  Do not hesitate to contact Gregg Larson at Henning Professional Services, Inc. with questions regarding the easement acquisition process. He can be reached by e-mail at: glarson@henningprofessionalservices.com or phone at 651-295-9660.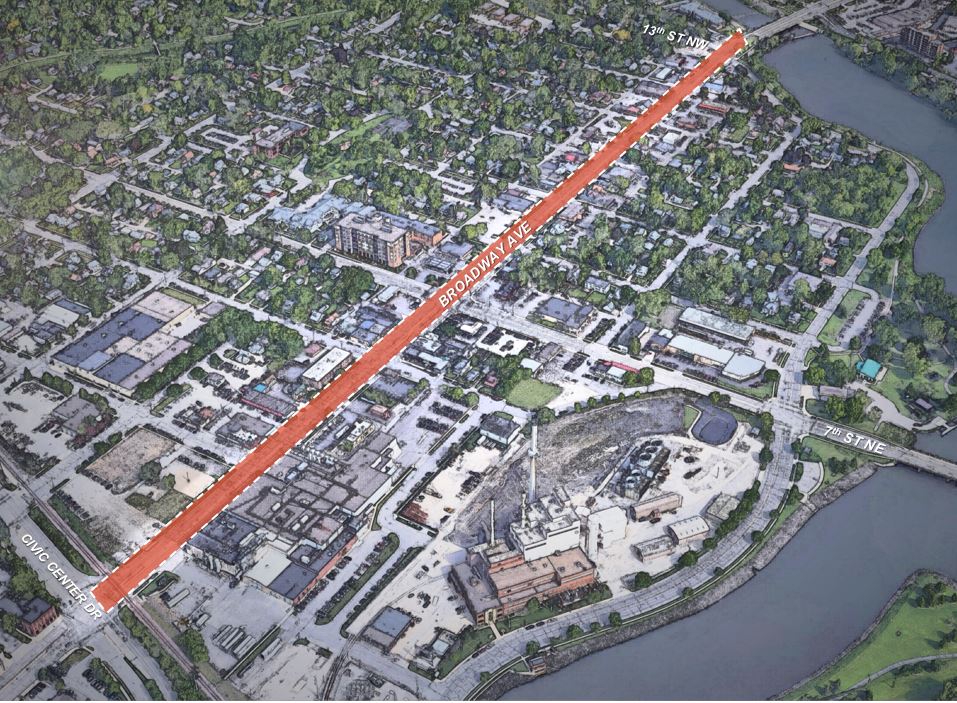 Project Summary
The City of Rochester is in the final stages of the planning and design for the reconstruction of Broadway Avenue (from Civic Center Drive to 13th Street North). This project is intended to begin the transformation of the Broadway Avenue corridor into a significant multi-modal gateway to downtown Rochester and the Destination Medical Center (DMC) Development District. The Broadway Avenue Corridor Study, completed in 2015, set the stage for future improvements that will occur.
Project Goals
Address
• Aging pavement
• Safety
• Mobility for all users
Enhance
• Pedestrian and bike facilities
• Visual identity – Gateway to Downtown
• Transit facilities and access