Project Update
Based on a City Council decision made on April 15, 2019, the project is currently on hold while the City further evaluates aspects of the project.  There may be changes to the scope and schedule of the project.  Further information will be posted here when it is available.
On June 4, 2018, the Rochester City Council selected Option 2C to move into the final design phase. This design includes two lanes in each direction, left-turn lanes, a one-way protected cycle track on each side of Broadway, sidewalks, and in-lane bus stops. An updated layout can be viewed here: Updated Project Layout 12-12-18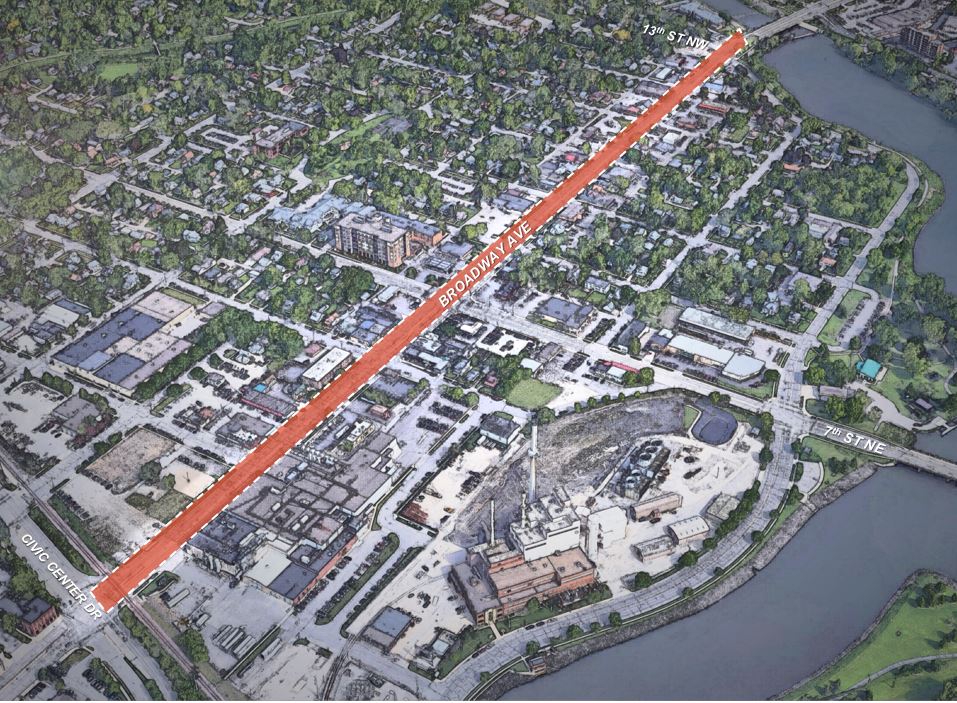 Project Summary
The City of Rochester is in the final stages of the planning and design for the reconstruction of Broadway Avenue (from Civic Center Drive to 13th Street North). This project is intended to begin the transformation of the Broadway Avenue corridor into a significant multi-modal gateway to downtown Rochester and the Destination Medical Center (DMC) Development District. The Broadway Avenue Corridor Study, completed in 2015, set the stage for future improvements that will occur.
The third project open house was held on Thursday, November 15th at 125 LIVE. At this open house, the project team shared design updates and construction phasing. Click to view the layout and board displays presented at the meeting!
Project Goals
Address
• Aging pavement
• Safety
• Mobility for all users
Enhance
• Pedestrian and bike facilities
• Visual identity – Gateway to Downtown
• Transit facilities and access