Project Summary
The City of Rochester is in the final months of the planning stages and looking to start final design this spring for a 2019 reconstruction of Broadway Avenue (from Civic Center Drive to 13th Street North). This project is intended to begin the transformation of the Broadway Avenue corridor into a significant multi-modal gateway to downtown Rochester and the Destination Medical Center (DMC) Development District. The Broadway Avenue Corridor Study, completed in 2015, set the stage for future improvements that will occur.
We still want to hear from you through these final months of the planning process!  
The first open house was held in December of 2017 to introduce the public to the project and to get input on improvement alternatives under consideration. Meeting displays (see Get Involved Tab) illustrated options for enhanced transit service, additional corridor amenities, and accommodations for bicycles, pedestrians, and vehicles on Broadway.
The second Public Open House was held on April 11, 2018, at the Kellogg Middle School cafeteria.
This second open house provided the public with the opportunity to review and give feedback on the recommended alternative. About 75 people attended.
Project Goals
Address
• Aging pavement
• Safety
• Mobility for all users
Enhance
• Pedestrian and bike facilities
• Visual identity – Gateway to Downtown
• Transit facilities and access
Project Location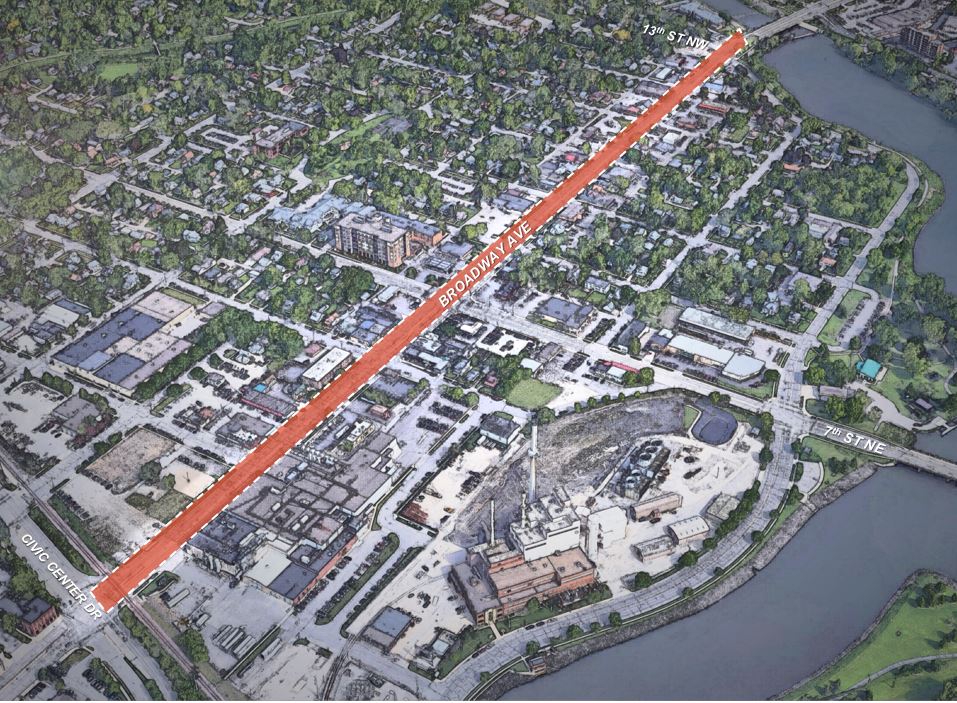 Project Updates
Public Open House 2 – April 11 2018
Thank you to all who attended the second public open house on April 11. Be sure to check out materials presented in the Get Involved tab!
2018 Bike Summit 
Thank you to all who attended the 2018 Bike Summit Presentation on March 3. Check out the presentation in the Get Involved tab!