Project Update
Project bids received in early 2020 came in higher than expected, and the planned construction start in 2020 was postponed. The City is currently evaluating options for proceeding with the project with construction starting in either 2021 or 2022. A virtual business and property owner meeting was held on 12/18/20 to provide information on the options the City is considering, and to take input. A video recording of that informational session can be viewed here.
If you have questions, would like additional information, or would like to give your input on the project, please contact Dillon Dombrovski, City Engineer, at 507-328-2421, or ddombrovski@rochestermn.gov.
For review, the City Council, approved project layout can be viewed here.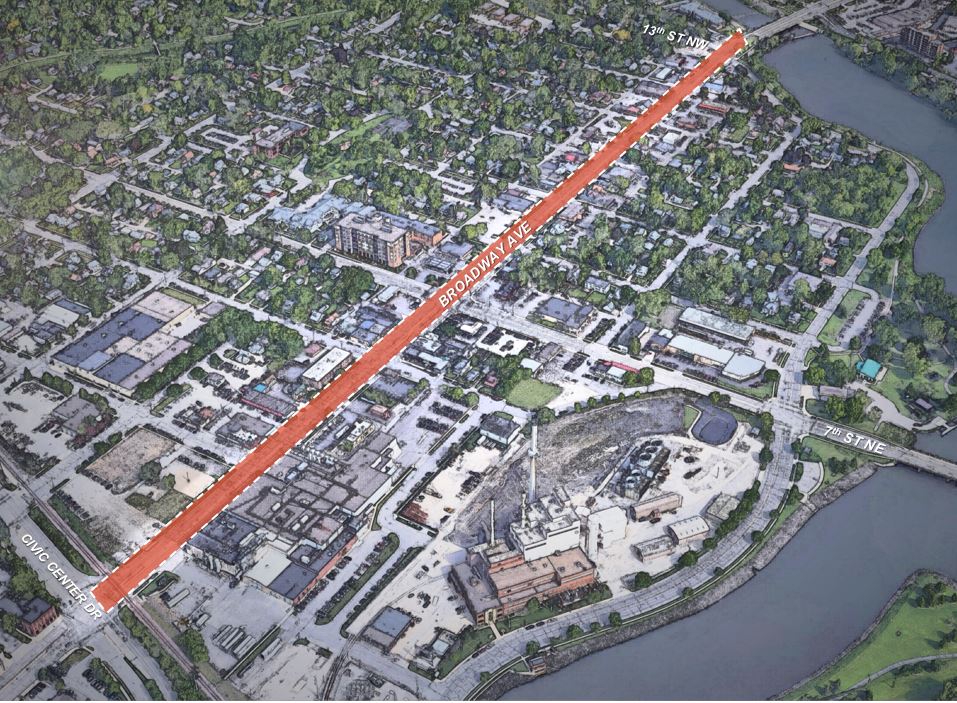 Project Summary
The City of Rochester is in the final stages of the planning and design for the reconstruction of Broadway Avenue (from Civic Center Drive to 13th Street North). This project is intended to begin the transformation of the Broadway Avenue corridor into a significant multi-modal gateway to downtown Rochester and the Destination Medical Center (DMC) Development District. The Broadway Avenue Corridor Study, completed in 2015, set the stage for future improvements that will occur.
Project Goals
Address
• Aging pavement
• Safety
• Mobility for all users
Enhance
• Pedestrian and bike facilities
• Visual identity – Gateway to Downtown
• Transit facilities and access