Welcome
Welcome to the City of Willmar's website for the Airport Master Plan being completed at the Willmar Municipal Airport. This site is your official source for up-to-date information about this planning study. This website will be updated as new information is available. Check back monthly to stay informed about the project and opportunities to participate in the planning process. Click here to leave a comment on the project. We look forward to receiving your feedback.
Project Purpose
An Airport Master Plan is a 20-year plan for an airport and describes the short, mid, and long-term development plans to meet the existing and future needs of the identified users of the airport. The Airport Master Plan will provide direction and guidance to the airport owner, the City of Willmar, regarding future airport preservation and development priorities. It will become the City's plan and strategy for the future of the airport.
Project Objectives
The Airport Master Plan objectives were discussed with the Willmar Airport Commission and Federal Aviation Administration (FAA) during the project scoping process. The specific objectives identified to help attain the study goals include:
Explore existing and projected aviation demand and identify the aviation facilities necessary to accommodate the demand
Evaluate the required airport design standards based on the identified critical aircraft Identify design standard deficiencies and provide realistic solutions to meet airport design standards, including runway airspace obstructions and runway length
Recommend improvements that will enhance safety, meet capacity needs, and are compatible with the surrounding built & natural environment
Identify potential land use changes and controls to satisfy existing and future airport requirements
Establish a realistic implementation plan for the proposed improvements based on planning level project cost estimates
Evaluate ways to maximize revenue and manage cash flow through the development of a financial feasibility analysis that considers future capital improvement needs
Provide an opportunity for all airport stakeholders, including users and surrounding landowners, to participate in the process and provide valuable input
Planning Considerations Map
The Planning Considerations Map is a graphic being used to collect and convey information under consideration regarding the existing and future airport configuration that will be studied in the Airport Master Plan. This map will be updated as input is received and/or new information is learned.
Existing airport configuration – Several existing land uses near the airport are obstructions to the existing airspace and may be incompatible with airport operations today. The Airport Master Plan will evaluate the obstructions to address any deficiencies to meet minimum standards. The Airport Commission will be working with landowners to address any concerns to meet minimum safety standards.
Future airport development to be studied – The Airport Commission will identify a long-term vision for the airport to meet future aviation demand, facility needs, and airport safety standards. If additional runway length is needed, the Airport Commission will consider many factors to meet the necessary minimum safety standards.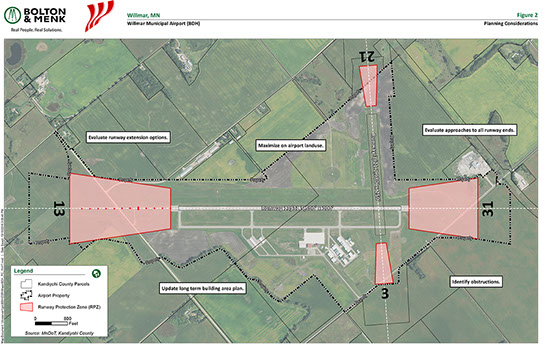 PROJECT CONTACTS
Melissa Underwood
Senior Aviation Planner
Bolton & Menk, Inc.
2040 Highway 12 East
Willmar, MN 56201
612-269-7466
melissaun@bolton-menk.com
Megan M. DeSchepper, AICP
Planner/Airport Manager
City Office Building
333 6th Street SW
Willmar, MN 56201
320-235-8311
mdeschepper@willmarmn.gov