For information on the April 2023 Open House
Crosslake Pedestrian and Intersection Improvements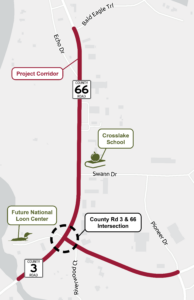 Crow Wing County, in partnership with the City of Crosslake, is planning to make improvements to County Road 3 and County Road 66. This corridor has been a topic of conversation for some time, and with the National Loon Center (NLC) set to open in 2024, more pressure will be on the corridor to handle access, parking, and pedestrian needs. This project will align all past, present, and future efforts to establish a cohesive, community-supported vision for the corridor. The proposed improvements include:
Safety improvements to the intersection of County Road 3 & 66

Pedestrian improvements along County Road 3 to Pioneer Drive and along County Road 66 to Bald Eagle Trail

Stormwater treatment improvements to protect water quality
Project Schedule
In order to accommodate the influx of tourism and traffic that the NLC will generate, this project will be constructed in 2024, prior to its opening. With this hard deadline for construction, and the likely potential for right-of-way impacts, the following accelerated schedule will be adhered to.
National Loon Center (NLC)
The NLC is planned to open in Spring 2024. For more information visit: NationalLoonCenter.org.
Sign up for project updates!
CONTACT
Phil Martin
Project Manager

Bolton & Menk, Inc.
(218) 821-7265