The final design phase of the Downtown Highway 41 Project is happening now!
Visit the project webpage to learn more!
Status
The Highway 41/Highway 61 Corridor Improvements Study was completed in 2017.
Read a summary of study purpose and goals. Projects identified in the study will be constructed in phases over time. Interested in the study conclusions? Check out the final report documents:
Projects Identified in the Study
Highway 61 Bridge & Roadway Improvements Project
This project was completed in spring 2018. Check out the project page for more information.
Downtown Chaska corridor improvements
Preliminary design for the project was approved in early 2018. Final design began in 2021 with construction tentatively scheduled for 2022 and 2023. Learn more on the Downtown Highway 41 Project website.
To see the proposed three-lane vision for the Highway 41 (Chestnut Street) corridor in downtown Chaska, watch the video below or open it in a new window.
An underpass for trail users is proposed under Highway 41 using the former railroad corridor through downtown. Here is a rendering of what that underpass could look like between Dolce Vita Wine Shop (on the right) and the Coldwell Banker building (on the left) as you are looking west.
​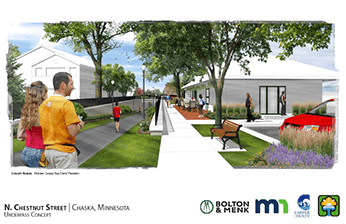 Click image to see a larger version.