Downtown Highway 41 Project
Welcome!
This site provides information about the Downtown Highway 41 Project. The project is currently in the final design phase. Final design is anticipated to be completed in Spring 2022, and construction will begin in July 2023. Check out the new roadway design. 
Stay up-to-date on the project by signing up to receive updates by email or text.
Photos of existing Highway 41 in Downtown Chaska.

The Downtown Highway 41 Project will help the City of Chaska achieve its vision of downtown revitalization that reflects and celebrates its historic character, traditional small town atmosphere, and values. The vision for Highway 41 through downtown Chaska is a two-lane road with turn lanes that better balances roadway needs with the pedestrian space. The addition of streetscaping, pedestrian/bicyclist connections, and gathering spaces will create a more comfortable and inviting environment for all users. These improvements will preserve and enrich the downtown ambience while making it a popular destination and hub of the community.
The Downtown Highway 41 Project incorporates several key elements including:
Reconstruction of Highway 41 (Minnesota River bridge to Walnut Court)

Reconstruction of Chaska Boulevard (Highway 41 to Yellow Brick Road)

Addition of two public parking lots east of Highway 41 (north and south of City Square Park)

Addition of downtown streetscaping and wayfinding elements

Improved and additional pedestrian connections and spaces

Pedestrian tunnel under Highway 41

Addition of an enhanced pedestrian crossing on Highway 41 at Walnut Court

Upgraded public utility lines
Benefits of these improvements include:
A safer and more welcoming environment for pedestrians and bicycle users

Improved ADA accessibility

A revitalization of downtown that will benefit existing businesses and attract new businesses

Safer and more reliable routes for all transportation modes
Planning, Design, Environmental Review, and Property Acquisition for the project will take place in 2021-2022.
Watch the video below to get an idea of what Downtown Chaska will look like after construction of the project.
The pedestrian tunnel under Highway 41 between 5th Street and Chaska Boulevard will provide a valuable connection for downtown visitors and residents. The image below shows a visualization of the tunnel near the Historic Chaska Rail Depot property. Final design of the tunnel is pending. Open a large view of the pedestrian tunnel visualization (pdf).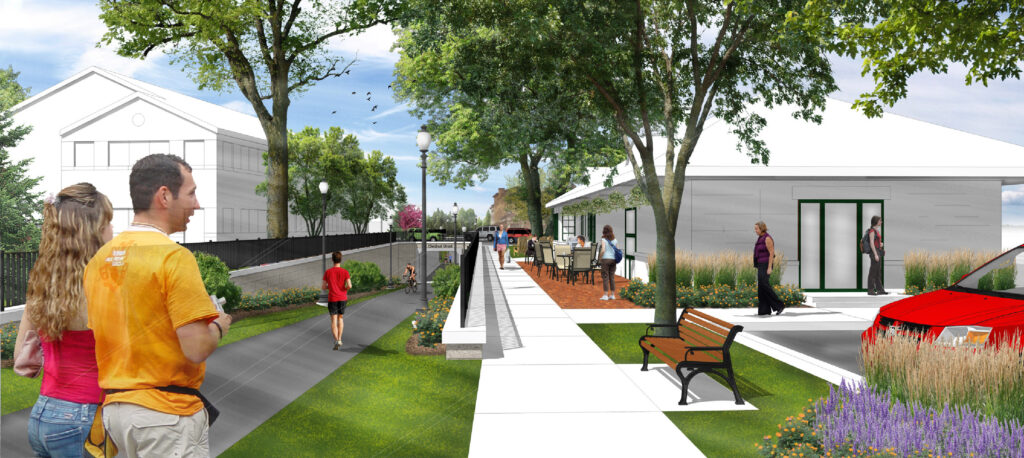 Please explore the website to learn more about the Downtown Highway 41 Project!