West Point Douglas Road
Project Summary
The West Point Douglas Road Street Improvements Project includes reclaiming the existing street section, re-grading and shaping, stabilizing the reclaiming and placing new bituminous pavement with removing and replacing spot concrete curb and gutter. As part of this project, new sidewalk and pedestrian ramps will be installed and existing watermain, sanitary sewer, and storm sewer systems will be repaired.
Notice of Hearing on Proposed Assessment of Improvements – November 17, 2020
Prior notice was given that the City Council of Cottage Grove, Minnesota would meet at 7:00 p.m. on November 18, 2020 to consider and possibly adopt the proposed assessment for improvement for the West Point Douglas Road Rehabilitation (Jamaica Avenue to Belden Boulevard) project.
Due to the COVID-19 pandemic, the November 18, 2020 City Council Regular Meeting will now be held virtually. It will be broadcast live by the South Washington County Telecommunications Commission. There are also options to provide public input virtually during the meeting. To watch or provide public input virtually during the meeting follow the instructions below:
Watch and/or Listen Only If you want to watch and listen to the meeting live on your TV or computer without providing public input during the meeting, or listen only on your phone: TV: Live Broadcast on SWC-TV Channel 16 Computer: Go to SWCTC.org, click Watch Meetings in the lower left portion of the screen, and find the meeting under Cottage Grove.
Dial In (Audio Only): +1 312 626 6799 Enter Webinar ID when Prompted: 982 9792 1704 Watch and Provide Public Input If you want to watch the meeting live on your computer, phone or tablet, and provide public input during the meeting:
Computer: Go to www.cottagegrovemn.gov, scroll down to Events, and select the Wednesday, November 18 Cottage Grove City Council Regular Meeting for a virtual link – OR – Go to https://cottagegrovemn.zoom.us/j/98297921704 follow the prompts and instructions.
Other Devices: Use Zoom Cloud Meetings App – Webinar ID: 982 9792 1704
Virtual Neighborhood Meeting - May 2020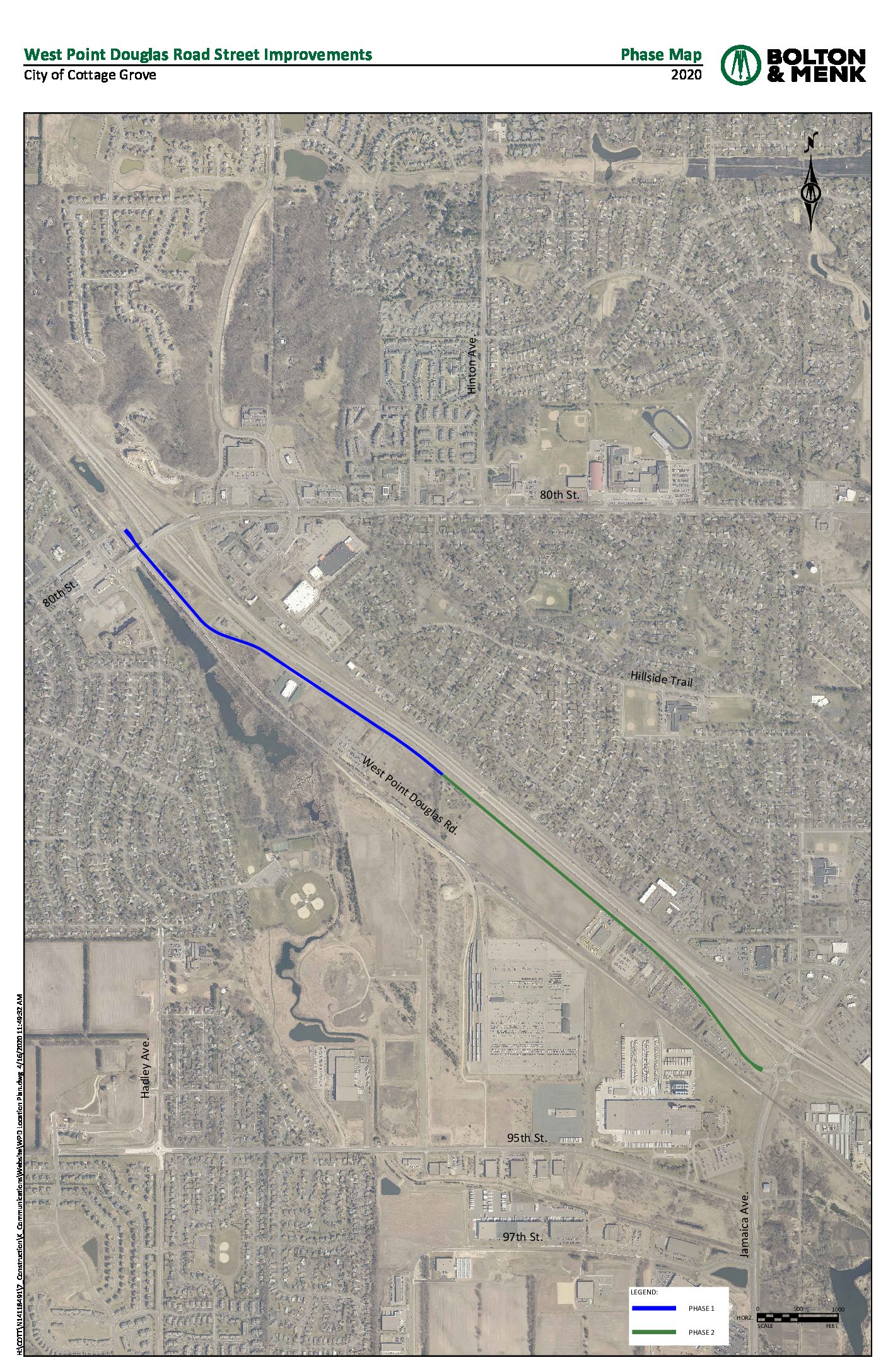 Contact Us!
Have any questions about construction? Call the project hotline to leave a voicemail and a member of the project team will get back to you as soon as possible. We are also reachable by email. See contact info below.
Hotline Phone Number: 763-242-0780
Hotline Email Address: wpointdouglasrd@bolton-menk.com