Scroll down to watch the corridor conceptual design video!
Overview
Highway 47 (St. Francis Boulevard) between the Anoka County Fairgrounds and Bunker Lake Boulevard experiences a crash rate three times higher than the statewide average. Lack of flexibility for turns and property access creates congestion and safety issues. At the McKinley Street intersection, traffic backs ups behind left-turning vehicles during peak hours are common. Wait times to enter Highway 47 from side streets can be up to two minutes in length.
Corridor improvements will focus on improvement of intersection operations and safety, providing safe pedestrian and bicyclist routes, providing safe driveway access, and accommodating future growth. Read the summary of Highway 47 corridor issues and needs or click the image below: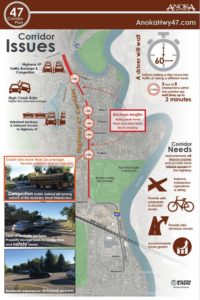 Conceptual Design Video
The video below provides an overview of proposed improvements.