The U.S. Highway 10/169 Improvement Project will include reconstruction of three intersections (Thurston Avenue, Fairoak Avenue, and Main Street), pedestrian walkway improvements and frontage road improvements. Construction is scheduled for 2022-2023.
Watch a video about the project
Project Information
Due to heavy traffic volumes and signals at Fairoak Avenue and Thurston Avenue, U.S. Highway 10/169 experiences severe traffic back-ups, travel delays, and over 100 crashes per year with at least one crash during a peak period, resulting in delays stretching for miles. Pedestrians also cross U.S. Highway 10/169 at unsignalized and unmarked locations because of delays or inconveniences at signals.
This project will reduce traffic crashes, improve efficiency, relieve congestion, improve local circulation and connectivity, and provide pedestrians with walkways to local destinations. Delays in Anoka will be reduced by 75% and crashes will be reduced by 57%, according to projections.
Key Elements
The U.S. Highway 10/169 Improvement Project extends between the Anoka/Ramsey city limits and the Main Street interchange. Road construction will take place in 2022-2023. Key project elements are listed and shown below.  The image below shows an overview of the project – please click to enlarge.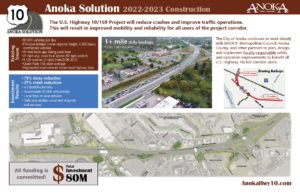 Thurston Avenue intersection – US Hwy 10 will be elevated 16 feet, Thurston Ave will be slightly lowered with a roundabout interchange
Fairoak Avenue intersection- US Hwy 10 will be elevated 15 feet, Fairoak Ave will be slightly lowered to become an underpass
Main Street intersection – Reconstruction with roundabout intersections
Pedestrian safety and connectivity – Major improvements throughout project area including addition of multiple sidewalks & trails
Frontage roads – Improvements on both sides of US Hwy 10 with options for local trips & access to interchanges at Thurston Ave & Main St
CONSTRUCTION STAGING
The project team for the Hwy 10/169 Improvement Project continues to coordinate with the project team from the Hwy 10 Rum River Bridge Replacement and Corridor Improvement Project (MnDOT) to provide an organized, coordinated, plan that retains reasonable access as both projects are constructed in 2022-2023.
The City of Anoka's Green Haven Parkway extension project, to be constructed in 2021, will play a key role in traffic movement through the area as Highway 10 construction is underway. See the timeline below for general timing of projects. (Click timeline to see larger version.)

The staging video for the Hwy 10/169 Improvement Project shown below provides an overview of construction areas and access thru the construction. A key to symbols used in the video is shown below: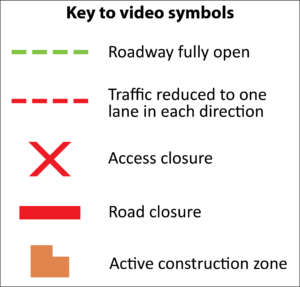 On July 27, 2020, an overview of construction staging was presented to Anoka City Council. The video of the presentation goes into more detail about planning for the staging process and staging details.