What is the Downtown Reconstruction Project?
The Waconia Downtown Reconstruction Project will improve the streets, utilities, pedestrian facilities, and drainage of the downtown area. The project will be constructed in two parts:
Phase 1, which will reconstruct two blocks of Main Street and one block of Olive Street
Phase 2, which will reconstruct three blocks of Main Street and one block of Elm Street, Pine Street, and Spruce Street.
Below is a map of the project area as well as a larger map including the previous projects completed from 2013 through 2020 as a part of the Downtown Master Plan. The final project areas are not final and may change during the upcoming planning and design phases of the project.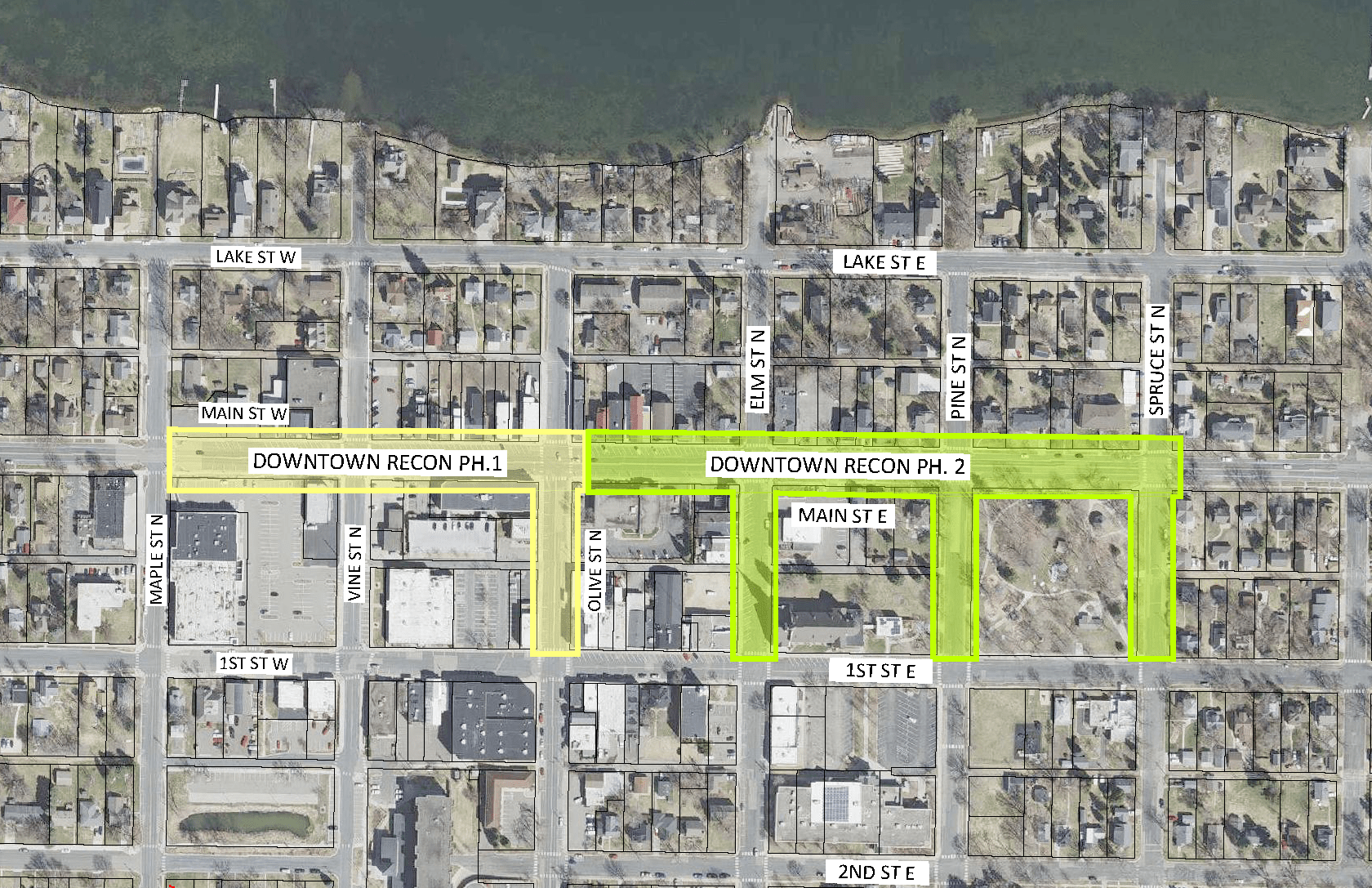 The general improvements for both projects include:
Removing and replacing the roadway, parking, adjacent sidewalks, and the underlying public utilities
Replacing and expanding the storm sewer / drainage system.
Implementing stormwater treatment items.
Replacing and improving the street lighting.
Incorporating downtown wayfinding and signing elements.
Private utility upgrades by others may also be included.
These improvements are planned to be assessed to benefitting properties in accordance with the City's Assessment Policy.
Approximate Project Timeline
The approximate timelines for both projects are shown below. All dates are estimates and may change due to City Council approvals, funding delays, inclement weather, or other variables. View a larger image of the timeline here.

Project Background
In 2014, a Downtown Master Plan was created for the City of Waconia, to provide a framework that would help city leaders and other stakeholders revitalize downtown Waconia, physically and economically.
This plan aimed to:
Improve and increase parking opportunities in critical areas
Develop a unique identify for downtown Waconia through signage (wayfinding signs, monuments, branding), streetscape treatments (lighting, benches, landscaping), and site amenities
Create a more pedestrian-friendly experience
Re-establish Lake Waconia as a public destination that is easily accessible from the downtown
The Waconia Downtown Reconstruction Project will include many of the improvements identified in the Downtown Master Plan.