Thanks to everyone who attended the Virtual Open House!
Thank you for attending the open house! If you didn't get a chance to submit your feedback or the business owner questionnaire, please reach out to the project contact.
If you were unable to attend, you can watch the recording of the presentation here.
INPUTiD Interactive Comment Map
This interactive comment map will be utilized throughout the entirety of the project. It allows you to explore the proposed improvements, leave feedback directly on the map, and view and respond to other people's feedback.
At this stage in the project, preliminary designs for the improvements have not yet been developed. Therefore, we are currently asking for your input about issues or ideas you have for improvements within the project areas. Click here to provide your input on the map.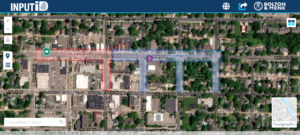 Public Hearing
Once the feasibility studies are completed for the project, the impacted property owners will be invited to a Public Hearing. This public hearing will provide the property owners with the opportunity to speak to the City Council before decisions are made for the final design of the project
Two Public hearings are tentatively scheduled at this time:
Phase 1 public hearing in late summer/early fall of 2022
Phase 2 public hearing in late summer/early fall of 2023
What does a reconstruction project look like?
To learn more about the work that takes place during reconstruction projects watch our informational video "What's Under My Street?" here.