CSAH 56 & CSAH 38 Improvements
Project Need
The City of Long Prairie is undertaking a construction project to improve the city streets and utilities. The project includes reconstructing the streets and replacing sanitary sewer, water main, and storm sewer infrastructure.
The 2022 construction area includes CSAH 38 (2nd Avenue SW) and many of the adjacent city streets.
The 2023 construction area is anticipated to include the remaining city streets and CSAH 56 (Riverside Drive).
Click the image to view a larger version of the project map!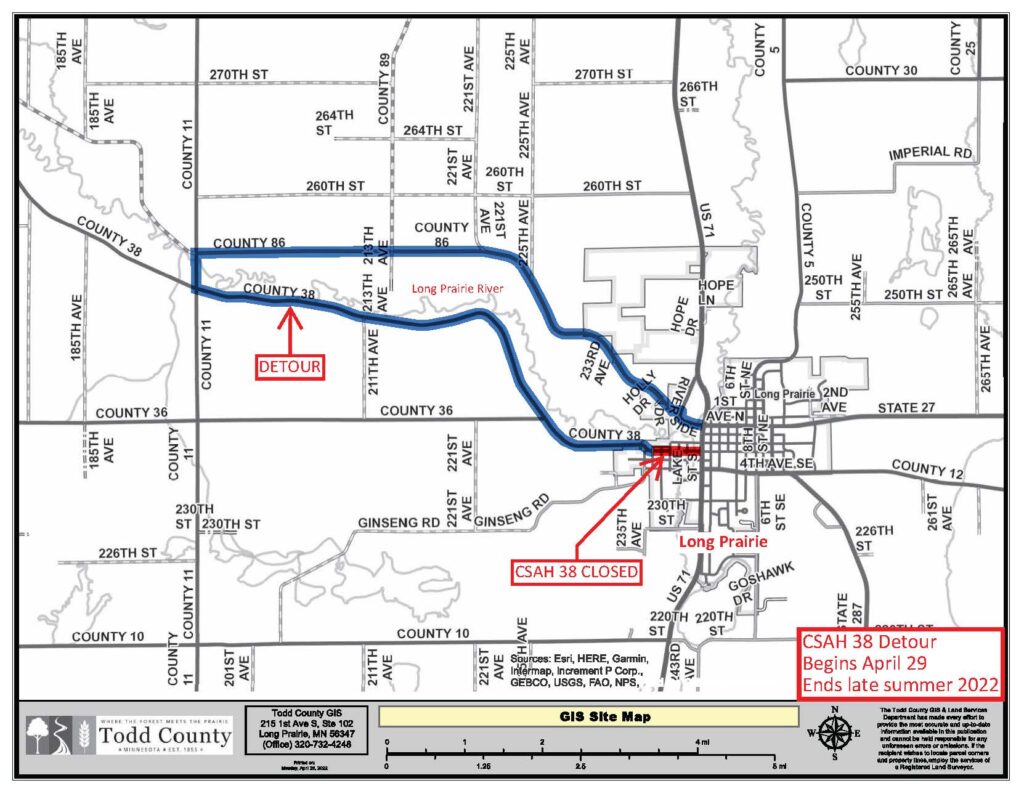 Click the image to view a larger version of the detour map!
Project Updates – September 21, 2022
Progress Update
Underground has been completed on most of the project.
Box culvert replacements are completed.
Asphalt paving on 2nd Avenue SW, 1st St SW, 2nd St SW is completed.
Concrete sidewalk and driveway construction on 2nd Avenue SW is underway.
Upcoming Schedule
Finish underground utility replacement on 3rd Avenue SW, 5th Street and 6th Street. Anticipate completion of underground work Sept. 23rd.
Begin street excavation and construction on 3rd Avenue SW, and other remaining streets.
Construction of concrete curb, walks and driveways, asphalt paving, boulevard grading and topsoiling will occur over the next several weeks.
Begin dewatering and excavation for the new Riverside Drive lift station. This will not require any work in the road and should not affect traffic or the existing utility system.
---
The CSAH 38 area improvements will be completed in 2022, and the top layer of asphalt pavement will be placed in 2023. Construction in the CSAH 56 area is scheduled for 2023.
Sign up for project updates!
---
What to Expect During Construction
---
Contractor
---
C&L Excavating