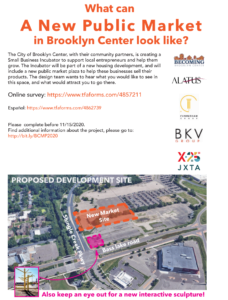 The City of Brooklyn Center, with their community partners, is creating a Small Business Incubator to support local entrepreneurs and help them grow. The Incubator will be part of a new housing development, and will include a new public market plaza to help these businesses sell their products. The design team wants to hear what you would like to see in this space, and what would attract you to go there.
1.Online Survey:
English: https://www.tfaforms.com/4857211
Spanish: https://www.tfaforms.com/4862739
Complete by November 15th to be eligible for the $50 restaurant gift card raffle
The Draft Master Plan is Ready And We Need Your Input!
The City and its partners recently completed a draft Master Plan intended to guide the development of the Opportunity Site. The full draft plan can be viewed on by visiting the Master Plan project page HERE, and offer your feedback on our interactive map.
Opportunity Site Project Updates – Fall 2020
The draft Master Plan for the Opportunity Site is complete and ready for public review and feedback. Read the plan and offer input by visiting the Master Plan project page HERE.
About the Opportunity Site
Meeting in a Box
The purpose of Meeting in a Box is to generate conversation and feedback from the community about the Brooklyn Center Opportunity Site. Anyone can host or facilitate a meeting – from an informal group of friends to a regularly scheduled meeting of a community institution. The Meeting in a Box Guidebook outlines a meeting approach, but the host can change or adapt the approach as needed to best fit the needs of the group. Resource materials are provided to supplement the guidebook.
To ensure that a group's feedback is incorporated into the master planning process for the Opportunity Site, please submit completed worksheets (in the guidebook) by March 31, 2020 to Meg Beekman, Community Development Director, by email at mbeekman@ci.brooklyn-center.mn.us or connect with her by phone at 763-569-3305.
Printed copies of the Meeting in a Box materials are available! Please contact Meg Beekman.
Materials from Open House on September 19, 2019
Redevelopment
Alatus LLC in partnership with the City of Brooklyn Center enlisted Twin Cities LISC's Corridor Development Initiative (CDI) to facilitate a series of community workshops from March to May 2019 to identify development guidelines for the Brookdale Ford/Brookdale Square redevelopment site. The following report and recommendations summarize the results of this process.