2025 – 2026 US 169 / Hwy 282 / CR 9 Interchange
VIRTUAL OPEN HOUSE:
The project team is looking for your input on the current project designs! An in-person open house as held on 9/27/22 at the Jordan Library, but there are more ways to provide feedback. Please use the link below to access the "Virtual" open house and leave us a virtual comment card with your thoughts!
Learn More
Project Background:
The City of Jordan, Scott County, and MnDOT have long desired improvements at the intersection of Highways 169, 282, and CR 9. Over two decades ago, discussions between agencies began to identify appropriate improvements for the area. Over 25 unique concepts have been developed.
In 2018, the City of Jordan led a Concept Design and Consensus Building regarding the intersection. The process involved formation of a Technical Advisory Committee (TAC) made of Jordan, Scott County, and MnDOT as well as three Jordan City Council members. The purpose of the TAC was to understand individual agency perspectives and to gain insight relative to key issues or perceived impacts, discuss potential mitigation strategies to minimize negative impacts, and identify considerations that could influence the study outcome. The TAC met several times to review existing deficiencies and build consensus around a shared vision for improvements.  The process involved traffic engineering, conceptual design, and public engagement to enhance existing and create some new layouts for the intersection. These layouts were critiqued by the TAC based on numerous factors and an evaluation matrix with detailed report were produced to document the alternative considerations. The TAC group successfully worked in a collaborative and cooperative manner to ultimately develop a process for the next steps toward implementation.
The goal of this study was to establish an agency supported design concept and estimated cost for the improvements to allow the City, County, and MnDOT to move forward with additional planning and the pursuit of project funding. The project is currently in the preliminary design stage and environmental review process. This will enable compliance with National Environmental Policy Act (NEPA) requirements. Funding is not currently available to allow the improvements to proceed to construction. Completion of the environmental review and preliminary design steps will enable the City and County to pursue State and Federal funding for implementation with the goal of implementing the improvements within the next 5 to 10 years.
Project Summary:
The Concept Design and Consensus Building Process yielded valuable results toward progress. While further consideration of alternatives is still underway, a concept has emerged as a preference between all three agencies. The following figure illustrates an interchange solution with Hwy 282/CR 9 traversing over Hwy 169. Unique to this alternative, a northbound on ramp accesses Hwy 169 from Creek Lane, rather than from Hwy 282 as has been considered historically. This change allows preservation of existing, tax generating commercial space occupied by Holiday, Jordan Wine & Spirits, and Caribou Coffee.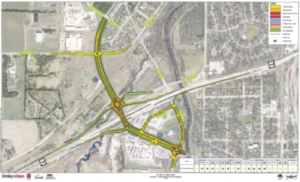 The environmental review analysis currently being led by the City of Jordan, with funding by Scott County, will be largely complete by mid-2020. The project's Environmental Assessment Worksheet (EAW) was completed and published in January, 2020. The EAW will be out for public comment for 30 days. Applications for various federal and state funding opportunities will be developed for at least the next 2-3 years. With a project cost of $30M – $40M (varying depending on construction year with rising costs due to market inflation), it is anticipated two or more $10M state or federal program grants will be needed to implement the project. The project is also a candidate for Scott County Sales Tax funding once significant federal and state funding is secured.
Project Documents
Open House Meeting Materials Feb 20 2020
Postcard Invitation to 2/20/20 Open House
Environmental Assessment Worksheet (EAW) (March 2020)
Alternative 1 Preliminary Renderings (January 2020)
2018 Report on Concept Design and Consensus Building with MnDOT and Scott County
October, 2018 Public Open House Materials
April, 2019 Project Newsletter
2014 Report Including Old (outdated) Interchange Design Concepts
March 2020 Scott County Findings of Fact
April 2020 Scott County Negative Declaration on the Need for EIS
Project Contacts:
Tom Nikunen, ICMA-MN is the Jordan City Administrator.  He can be reached at (952) 492-2535 or TNikunen@jordanmn.gov.
Mike Waltman, of Bolton & Menk is the Jordan City Engineer.  He can be reached at (952) 890-0509 or mikewa@bolton-menk.com.